Makers and Suppliers of Biltong & South African Foods
Welcome to Susmans Best Beef Biltong, the destination for the best biltong and South African foods. The founder Larry Susman has been making and supplying biltong since 1979, now with an online shop and physical store in Newhaven. We primarily started out selling biltong but have since branched out into an extensive range of other South African meats, made using 100% quality meat, including boerewors, droewors and beef jerky. Other South African favourites include sweets, grocery items, gift hampers and traditional cooking braais. All of our products can be delivered straight to your door, offering UK and International delivery.

We are best known for selling the best beef biltong, where we've spent many years perfecting the biltong we make and supply to our loyal customers. This process has led us to create tasty biltong that's like no other. To make our biltong, we use only the highest quality grass-fed Aberdeen Angus beef cattle and Wild Venison Haunches and each biltong is hand cut by our butchers. Then comes the unique part of the process, where the meat is spiced with a secret family recipe. Before finally being cut into sticks and slow dried for 7 days to create one of a kind biltong.
We are a close-knit team, with our strong South African heritage shining through in the knowledge and expertise we provide our customers. Everyone at Susman's Best Beef Biltong works together to ensure that you, our customers always receive the best quality, service and customer care. Because we enjoy and take pride in our work, we achieve the criteria set and more. So now you know who we are why not give us a call for a chat or visit our factory shop. We look forward to meeting you soon. Please click here to jump straight onto the contact section for a map and directions.
Lauren Susman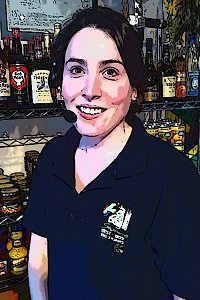 Is now our Manager, she has worked her way up through the ranks and now overlooks the day to day running of the company, and acts as a second pair of eyes for Larry (he relies on them). Lauren will be the person who deals with your orders, returns, suppliers, reps, etc.etc.etc. and any customers who want to speak with Larry when he is unavailable. So, if you cannot get hold of Larry ask for her or contact Lauren on sales@biltong.co.uk. Lauren deals with all the office work and the telephone calls so say hi when you speak to her.