A taste from the states…
Our American beef jerky is a meaty snack, well-loved in the USA! As with all of our Susmans biltong beef jerky, it is produced from high-quality Aberdeen Angus beef and cut by our specialist butchers into thin strips. The flavour-filled Angus beef jerky is then seasoned to perfection with spices and pepper, slightly smoked and finished off with a hint of garlic.
Whilst traditional South African jerky is a good choice, the American style beef jerky gives that extra punch of flavour, if that's what you enjoy!
Share the love with our 250g pack of beef jerky, ideal for snacking on in the company of friends and family.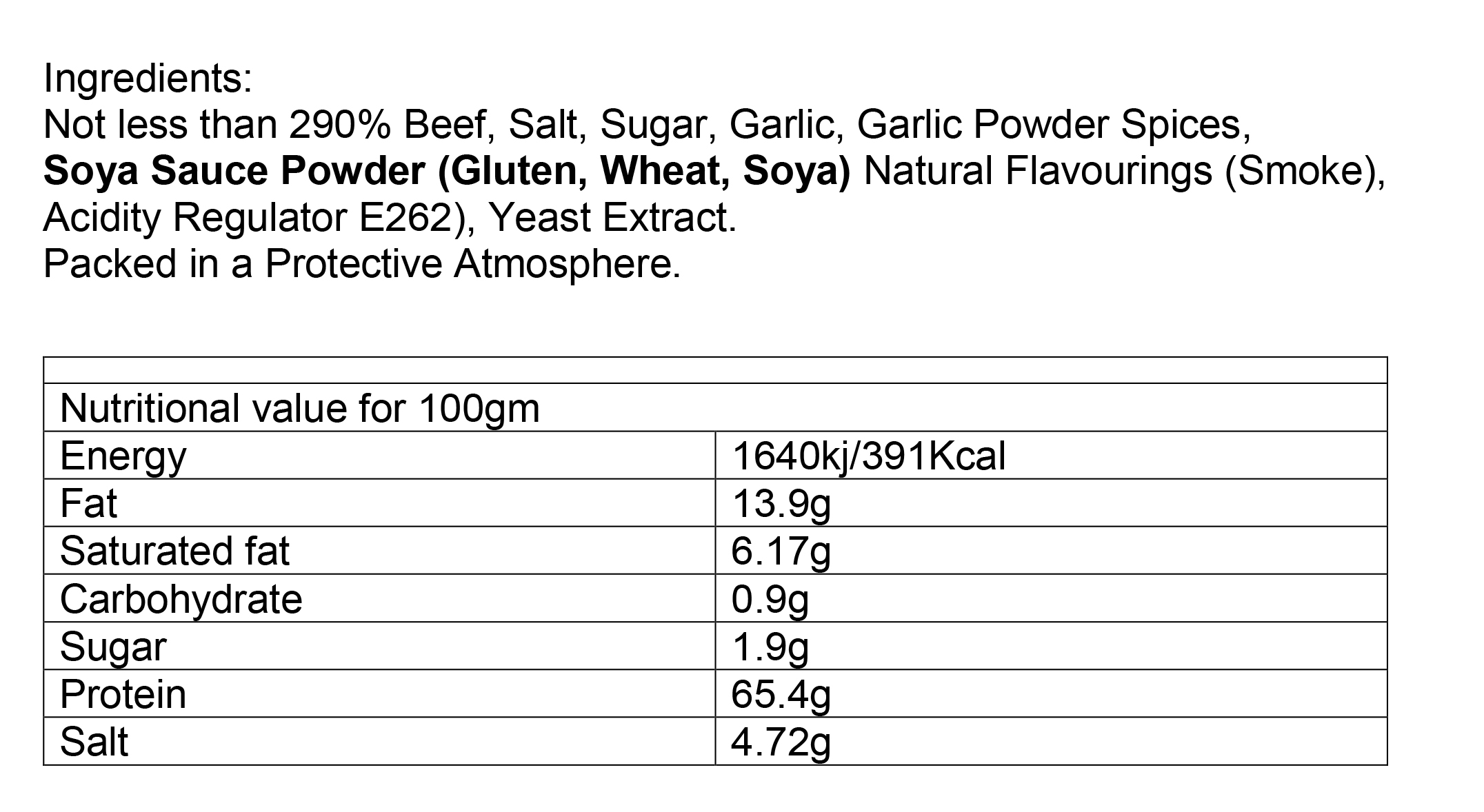 by Kate Glover

-

30 April 2018
This jerky is THE business. Biltong is amazing, but if you want something to really get your teeth into, look no further. It's like gravy in solid form. I keep it in the car, I keep it at home, it keeps me going during long days out on the road. I go into the shop and clear out the display on occasion. If you like biltong, but want to try something a little different, try this.
---
by Rodney Isemann

-

13 November 2012
I'm going to review the jerky.As a South African this may seem a little sacrilegious but I absolve myself by pointing out that I bought a kilo of biltong as well which I shall also review and the jerky looked better than any jerky I've seen in the UK.I haven't been to the USA and tried the jerky there so I can't vouch one way or the other for how authentic it may be. I have tried jerky in various places in the UK though. Harrods in London and other places. It's all been quite poor, sweet, moist
---
All reviews submitted will be considered for suitability before being published.
If you wish to speak to a member of our Customer Services Team please contact us directly.
Delivery Schedule
We deliver your order right away. We will normally send your order to you in 2 business days. International orders are generally received in under 5 days.
You must inform us within two working days if the goods are lost or damaged in transit so that we can make a prompt claim against the delivery company and correct the problem. Please quote your order number in all correspondence.
You agree that proof of delivery supplied by our delivery company is sufficient evidence to establish that goods have been received.
Returns Policy
Your rights to return goods are protected under the EU Distance Selling Directive.
These terms apply to your order. We may change our terms and conditions at any time, so please do not assume that the same terms will apply in the future.
None of these terms affect your legal rights and these are not diminished in any way. If any term is held to be invalid under any applicable statute or rule of law, that term is automatically omitted from the terms to minimum extent necessary to comply with the law and without affecting the validity or enforceability of the remainder.