Our Biltong comes from grass-fed Aberdeen Angus beef cattle - we use premium Silverside matured on the bone for extra flavour. Our butchers' hand cut the meat, it's then spiced with our secret family recipe and slow dried for four days to produce tender delicious biltong.



Ingredients: Not less than 220% Beef, Salt, Sugar, Sodium Bicarbonate, Preservative E223, Spices, Spice Extract packed in a Protective Atmosphere.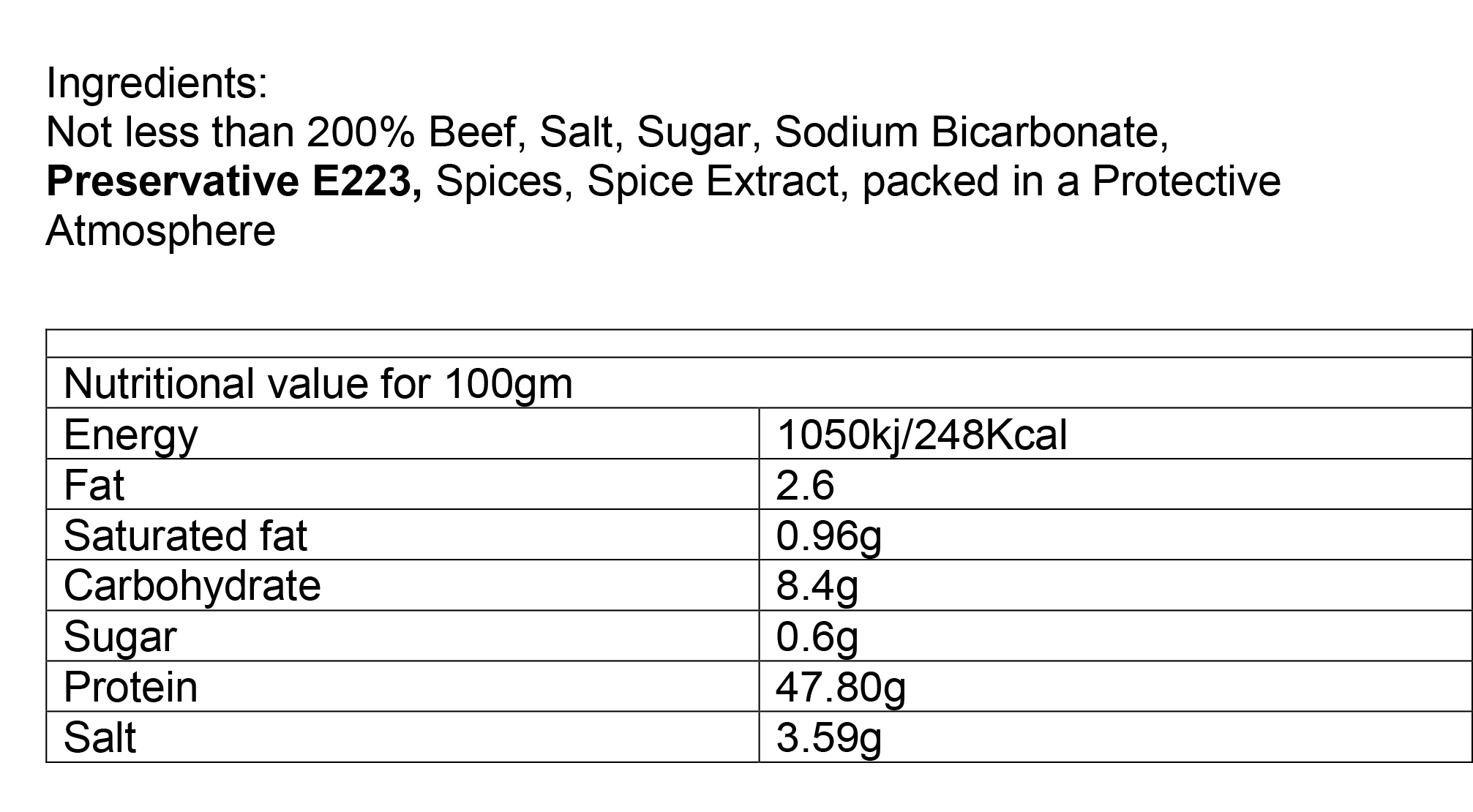 by Gemma Groenewald

-

16 July 2018
My husband loves this biltong, all the other pre packs i have bought him through the years, he hasnt liked, i bought him this, now he is happy again!! Its like being home! Lovely stuff ??
---
by Mo Appleby

-

03 July 2017
This has to be the best Biltong I've bought. It is evry bit as good as the stuff a friend of my daughter used to bring back from South Africa. Will definitely be buying again.
---
by Julie Hamilton

-

25 August 2016
This is by far the nicest beef biltong I have tasted for years, and I am now a regular customer! I recently tried some biltong from Selfridges in Trafford Centre and also from another company I found online and both products were awful, full of preservatives and a nasty black colour. Not like Susmans! Their biltong tastes and looks like the natural product it should be and makes me so nostalgic for SA!
---
by Marie

-

05 May 2015
I bought a couple of pre-packs for my boyfriend for Christmas and it was one of his favourite presents. Definitely worth buying these small pre-packs to taste all the flavours before buying a big bag. Never going anywhere else for biltong.
---
by Dave

-

05 January 2015
Absolutely awesome stuff, definitely the best outside South Africa and actually most of what's available in South Africa come to think of it :
---
by elia

-

21 January 2013
My favourite Christmas pressie of 2012 was biltong, garlic wors and koeksisters! After 12 years in the UK it was like home away from home. I haven't convinced my pommie family on biltong,which is fine with me but i had to share the wors and koeksisters!
---
by kath

-

27 February 2012
Every time I taste this biltong it reminds me of home. Memories of us as kids when the highlight our day was a packet of biltong and a coke! Still now these simple things remain a treat! Thank you, it's so hard to find decent biltong in the UK and this one has to be my favourite so far!
---
by Steve

-

09 February 2012
Got some as a present. Best I have tasted. Ordering a load more this week! Wow.
---
by Martin Fowler

-

12 October 2011
My taste buds have just taken a trip down memory lane - fantastic biltong,brought back happy memories of the years I spent in SA. Many thanks from a Lancashire lad who will always carry a bit of South Africa in his soul.
---
by rebecca

-

03 October 2011
some of the best biltong I have ever had, so beefy and tender
---
All reviews submitted will be considered for suitability before being published.
If you wish to speak to a member of our Customer Services Team please contact us directly.
Delivery Schedule
We deliver your order right away. We will normally send your order to you in 2 business days. International orders are generally received in under 5 days.
You must inform us within two working days if the goods are lost or damaged in transit so that we can make a prompt claim against the delivery company and correct the problem. Please quote your order number in all correspondence.
You agree that proof of delivery supplied by our delivery company is sufficient evidence to establish that goods have been received.
Returns Policy
Your rights to return goods are protected under the EU Distance Selling Directive.
These terms apply to your order. We may change our terms and conditions at any time, so please do not assume that the same terms will apply in the future.
None of these terms affect your legal rights and these are not diminished in any way. If any term is held to be invalid under any applicable statute or rule of law, that term is automatically omitted from the terms to minimum extent necessary to comply with the law and without affecting the validity or enforceability of the remainder.