500g of Game biltong made from Local Venison, almost as good as Springbok, Please specify in the special instructions if you wish to have your biltong pack in any specific way (This is for sticks only, sliced will be packed in 500g Vacuumed Bags, which is gas flushed to keep your biltong in 100% condition) i.e.4x500g etc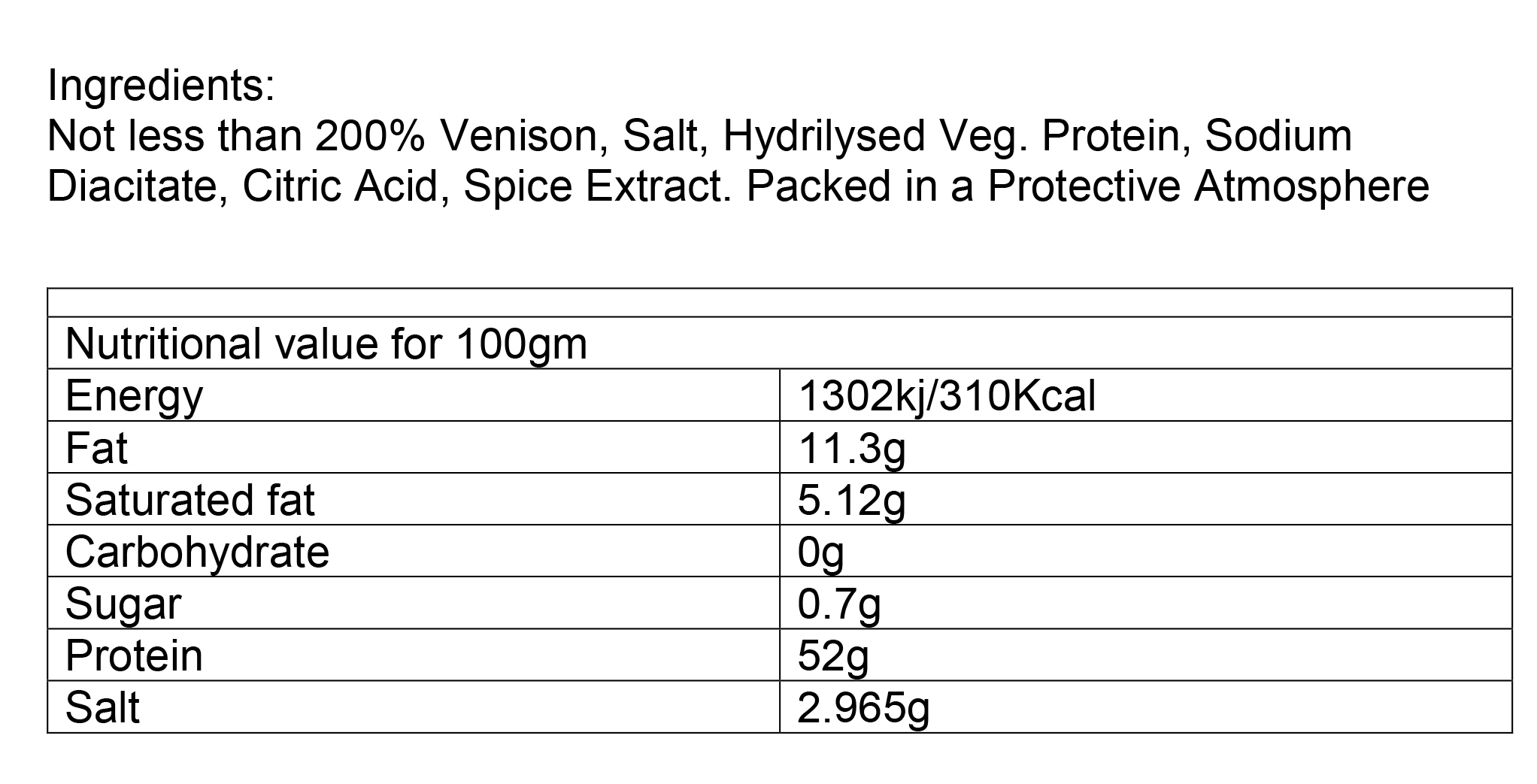 by BL

-

27 May 2020
Without a doubt the BEST biltong I have ever tasted! Its succulent, tasty and so authentic! A MUST to try if you love biltong as much as I do!
---
by Marc THEIN

-

27 February 2017
It is like a dream turn to reality; finally BILTONG in Europe like we love it in Southern Africa, quality even sometimes better, not cheap but absolutely correct, we ADORE your Biltong and give you a multiple thumps UP
---
by Greg

-

13 June 2016
Amazing biltong that had all the real south african spices and flavouring.
---
by bontle mmereki

-

09 May 2013
The best game you can get, very nice and succulent. i ordered little fat, wet and sliced, it was the best in the uk. thank you again
---
by Thomas Garay

-

27 February 2012
This Biltong is absolutely mouth watering. I ordered it medium with no fat and sliced. The end result was a taste sensation. I usually like the Kudu Biltong, but the Game meat is as good as. The Packaging was well sealed and the cuts were quite wearied. If you like Biltong then I would recommend you to try this. It will not disappoint.
---
All reviews submitted will be considered for suitability before being published.
If you wish to speak to a member of our Customer Services Team please contact us directly.
Delivery Schedule
We deliver your order right away. We will normally send your order to you in 2 business days. International orders are generally received in under 5 days.
You must inform us within two working days if the goods are lost or damaged in transit so that we can make a prompt claim against the delivery company and correct the problem. Please quote your order number in all correspondence.
You agree that proof of delivery supplied by our delivery company is sufficient evidence to establish that goods have been received.
Returns Policy
Your rights to return goods are protected under the EU Distance Selling Directive.
These terms apply to your order. We may change our terms and conditions at any time, so please do not assume that the same terms will apply in the future.
None of these terms affect your legal rights and these are not diminished in any way. If any term is held to be invalid under any applicable statute or rule of law, that term is automatically omitted from the terms to minimum extent necessary to comply with the law and without affecting the validity or enforceability of the remainder.