Every piece of biltong we make is spiced using a secret family recipe for a true taste of South Africa, creating biltong that is like no other. The Beef Chunks Biltong is a customer favourite and will not disappoint as it is made from premium Silver Aberdeen Angus beef cattle for the highest quality cut of meat. For this type of biltong, we cut sticks into pieces of 1-1.5cm thickness so its conveniently ready for you to enjoy as soon as your biltong arrives!
We would recommend this as a snack between meals as it's not only tasty, but its full of surprising health benefits so you can enjoy your favourite snack feeling a little less guilty! With low fat and high protein content, biltong has fast become a favourite amongst gym goers for their protein fix after an intense workout.
So now you know a little bit more about our biltong, why not try it for yourself? And if you're still unsure which to go for, you can give us a call and we'd be more than happy to assist!
We pride ourselves on producing and supplying the finest quality beef biltong, it's in the name!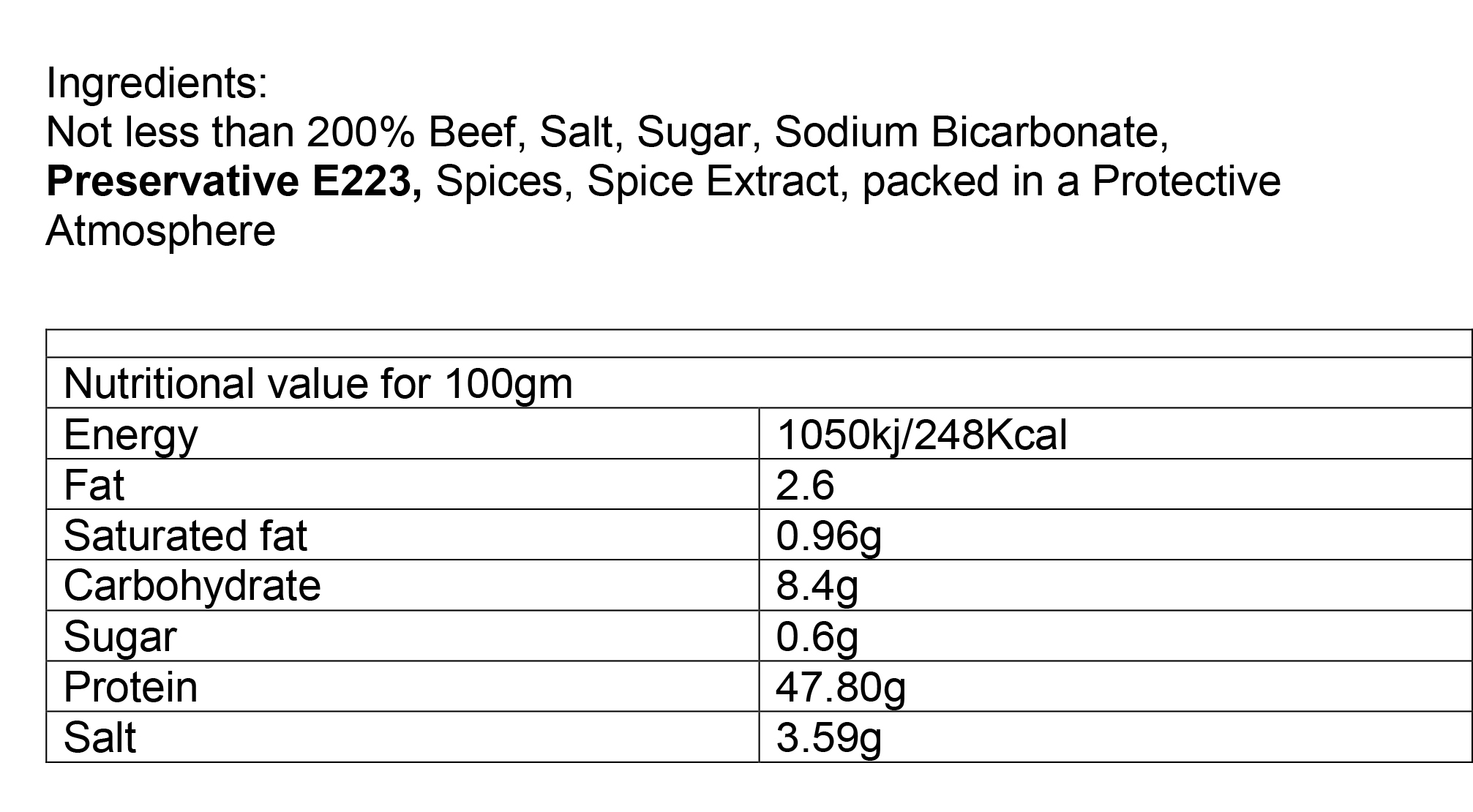 by Joni

-

12 October 2020
I love this biltong. It's the best outside of South Africa!
---
by Gavin Drew

-

08 July 2019
Best biltong ever, just busy placing another order now.
---
by Roger Levick

-

04 July 2017
I purchased the Biltong 'Chunks' as a first buy from Susmans - I prefer it 'wet' and having been disappointed with other suppliers, prepared myself for more of the same. How wrong was I? It was perfect, brilliant taste and texture, and ..........came with the most comprehensive storage instructions ever!!
---
by Waz Dog

-

24 February 2017
Absolutely awesome. Great quality. Went for medium with no fat. Perfect for snacking on between workouts.
---
by Karen-Leigh Anderson

-

20 February 2017
The biltong from Susmans is like you back in South Africa walking into one of the biltong kiosks. Tasty and satisfying.
---
by Bernice Allan

-

15 June 2016
These are by far my first choice when ordering my bolting. The chunks seen to last a lot longer and the taste is amazing too. 100% taste of back home. Well done Susmans ??
---
by kelly stevens

-

16 May 2015
Really enjoyed it thank you about to buy some more :
---
by Annette

-

21 April 2015
This is a wonderful product, and I like having the choice of the amount of fat and dryness. Flavour is spot on and I highly recommend it
---
by Ian Woodley

-

21 January 2015
Best Beef Biltong this side of the Kalahari !!My regular monthly supply of beef biltong chunks is a must, and along with certain delivery it's a sure winner.
---
by Verity Walker

-

23 September 2013
I have bought two lots of this biltong now and it is simply delish! I will continue to return and buy as am so happy with it. I have Crohns disease and it was lovely that Mr Susman contacted me personally when I asked if the products had any wheat or gluten in asked about their sausages too! and was reassured that the answer was a definte no to both and so I am able to happily chomp away on this and not get very ill as a treat of snack, I also use it in rice pasta with peppers and cream cheese,
---
All reviews submitted will be considered for suitability before being published.
If you wish to speak to a member of our Customer Services Team please contact us directly.
Delivery Schedule
We deliver your order right away. We will normally send your order to you in 2 business days. International orders are generally received in under 5 days.
You must inform us within two working days if the goods are lost or damaged in transit so that we can make a prompt claim against the delivery company and correct the problem. Please quote your order number in all correspondence.
You agree that proof of delivery supplied by our delivery company is sufficient evidence to establish that goods have been received.
Returns Policy
Your rights to return goods are protected under the EU Distance Selling Directive.
These terms apply to your order. We may change our terms and conditions at any time, so please do not assume that the same terms will apply in the future.
None of these terms affect your legal rights and these are not diminished in any way. If any term is held to be invalid under any applicable statute or rule of law, that term is automatically omitted from the terms to minimum extent necessary to comply with the law and without affecting the validity or enforceability of the remainder.